A Trip to Gangotri, Kedarnath and Badrinath
On 12th October 2018, at 7.20 am we landed at Dehradun airport, still I didn't have a clear picture about the schedule or the places that we are going to visit for the next 10 days. The only condition I put forward to my friend Srikant was that, I should be back at this airport on 23rd afternoon, to take my flight to Kochi.
An Invitation:

Ganga flowing infront of the Swami Dayananda Ashram

I have never been to the northern parts of India, so whenever someone shares their travel experiences to the Himalayas, I used to express my desire to visit those places. My friend Srikant was one among them. He used to visit Rishikesh, where his Late Guru Swami Dayanada Saraswathi has an ashram. A year back while he was sharing his experiences he had at the snow covered Gangothri, I expressed my desire, which was there always in the depth of my heart. It all materialized for me when Srikant and his wife Vidhya decided to attend a week long class on 'Brahma Sutras' at the above said ashram. They planned to arrive a week before the program, so as to visit the places around. Luckily Srikant thought of me and invited me to join the trip.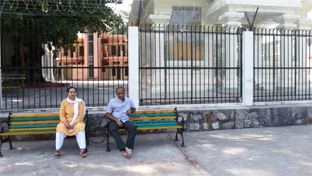 Infront of the Swami Dayananda Ashram

Though Srikant has told of a list of places that they were planning to visit, only a few familiar names struck in my mind, they are Rishikesh, Gangotri, Kedarnath and Badrinath and these places were more than enough for me to accept the invitation, even though I had no much idea about the importance of those places.
As soon as I accepted the invitation, Srikant gave me a small malayalam book named 'Oru Himalaya Yathra'(A Trip to Himalaya) written 85 years back by K. Madhavanar. He wanted me to read this book, to know the kind of challenge people used to face while visiting those places at that time . And also to understand the limited options available those days and the level of comfort we are enjoying now. It's really an amazing book to read.
Rishikesh:
It took only a half an hour drive to the Dayanada Ashram in Rishikesh from the Dehradun airport.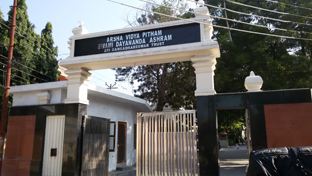 Swami Dayananda Ashram Entrance

The Dayananda Ashram is situated near the banks of River Ganga. We had our breakfast and walked around the ashram. There is a small book stall here, where we browsed through for a few minutes. Srikant recommended me to buy the book named 'Tatwa Bodha' which we were discussing. Then we went to our rooms had a rest . Evening we walked around the place, watched the famous Ganga arathi.
Next day, early morning around 5 am I got up, and by around 6am we started walking along the banks of Ganga, it's very cold and windy. We were heading towards one of the oldest ashram in Rishikesh named 'Shri Kailash Ashram' also called 'Shri Kailash Brahm Vidhya Peeth' established in the year 1880. A daily morning class was about to start there, on one of the upanishad (Vedanta) named Mandukya. We just entered the hall and sat along with others and attended that class. The medium is in hindi, the speaker at times took us through the unbeatable logic and the intellectual brilliance of Adi Shankaracharya. It's a one hour class. After the class we walked around the place and then went back to our room.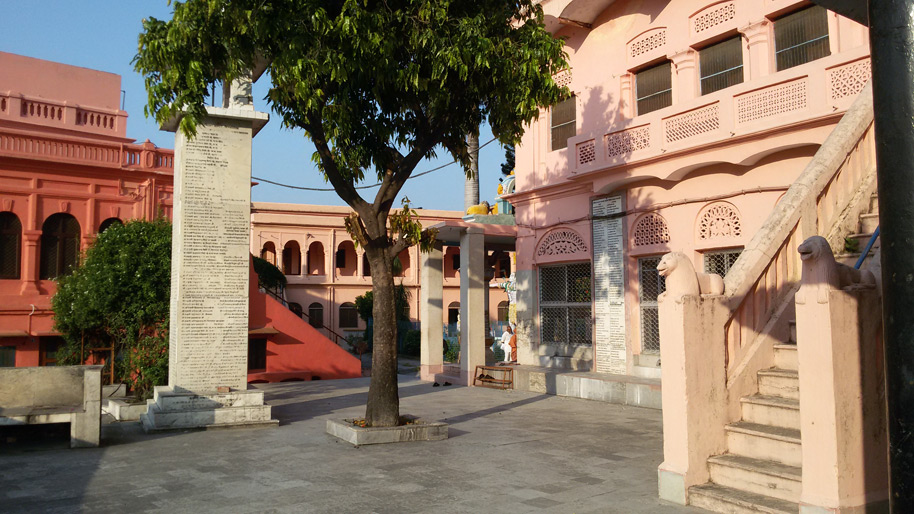 Kailash Ashram
Around 10.30 am we took an auto rickshaw and visited Sivandana Ashram (Divine Life Society). From there we walked over the famous bridge Ram Jhula and reached the other side of the river, a small crowded place with some shops. After spending some time there, we took a boat and crossed the Ganga to return to our ashram. That evening we went out again and bought thermal wear and some additional snacks for our upcoming days.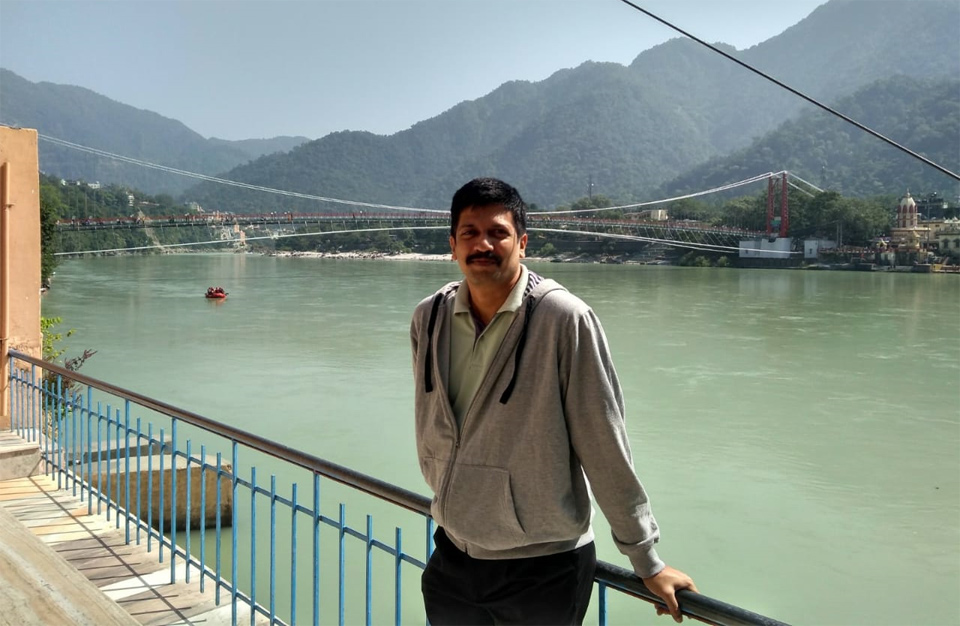 Ram Jhula
Gangothri
14th Oct. 2018, early morning at 6.15 we started our trip. We retained Srikanth's room and kept in it our important documents like passports and other stuffs which we don't need to carry with us for the next 7 days. Srikant has already booked a Toyota Innova car for Rs. 4500 per day. He has not yet arrived to any conclusion on which place to visit first, still pursuing the best option. He is making phone calls and getting more information from his friends. Since all the places that we have to visit are on the same direction, we have got enough time to decide.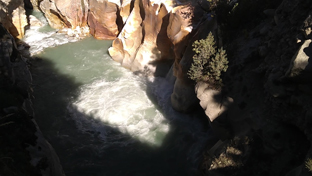 Suryakund, Gangotri

In around two hours we reached Mussoorie, a famous hill station also called the 'Queen of hills'. From here we were able to view the snow capped mountains. Tehri Dam, the highest dam in India and one of the highest in the world is situated here. It is constructed over the river Bhagirathi.
Finally we decided to visit Gangotri first. But, now the next riddle for us is to sort out, whether we should stay and relax at Uttarkashi that night then continue the trip to Gangotri next day. Or take the challenge of driving directly to reach Gangotri before sunset to see the Ganga Arathi. It's 3 hours drive from Uttarakashi to Gangotri. That is how Mr.Srikanth is, he thinks of all possibilities, analysis and tries to push things to it's maximum. Knowing this, I am not at all concerned about the options and the decisions. I used to tell him that, where ever you take me, even if it's a hell, I have no issue, for me everything is a new experience and that is heaven for me. In my mind I calculated that, if he and Vidya can manage, then definitely I can too ;-))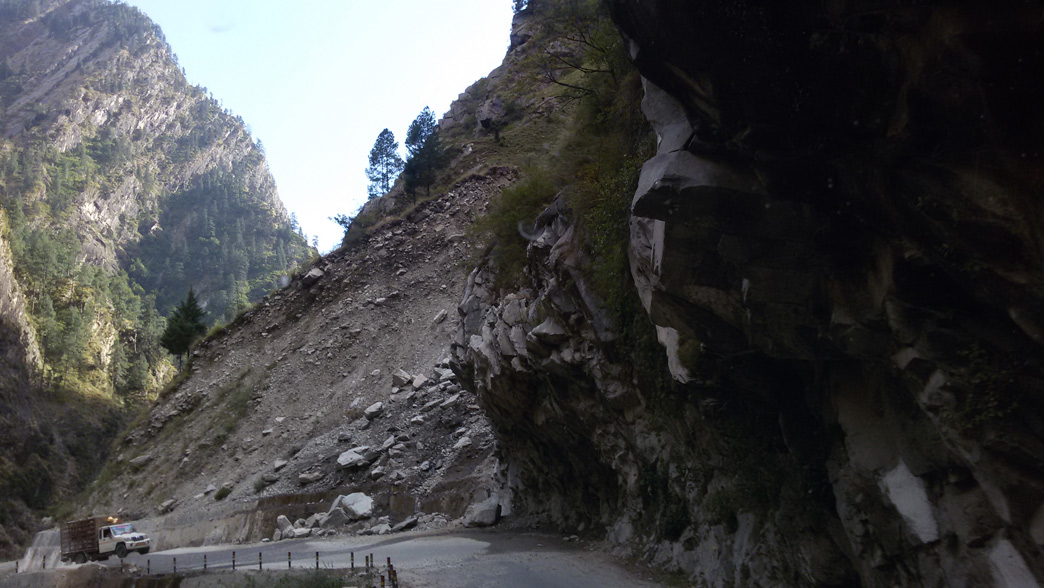 Land Slides
By now, these mountains have taught me 'the art of being in the now' or in other words 'being in the present moment'. When we travel through this terrain, I think the best choice for us is to 'Be in the present'. When our vehicle wheel moves towards the edge of the mountain road, even though we will feel a tension forming deep in our stomach, we should be able enjoy the beauty of the river flowing far below us. Control of the vehicle is not in our hands, so the only option we have is, to have a happy mind that is ready to face things as it is.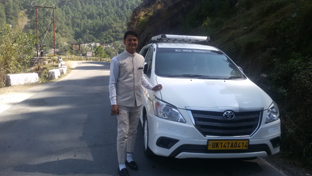 Ravi Rawat-

We decided to visit Gangotri the same day before Ganga Arathi, and stay there. Our driver Ravi Rawat agreed on the decision. Ravi is young and a professional driver. He is very polite, friendly and a happy going young chap. Srikant was joking to Ravi not to get married for the next three years at least so that Ravi will be able to take us happily to these kind of long trips without worrying about someone waiting at home.
To avoid last minute hassle, Srikant contacted his friends and got two rooms booked in Ishavasyam, a rest house opposite to Gangotri temple on the banks of Ganga. We reached Gangotri in the evening. Kept our bags in the room and dashed out to the temple to view the Ganga Arathi. After the sunset, intensity of the cold started slowly increasing. There are many small shops on either side of the way to the temple. We had a hot coffee from a shop and came back to our room. Later we went to have our dinner, served in their dining hall within the compound. We have to sit on the floor over a mat. Washing hands before and after dinner is really a very challenging task in that icy water. They served hot roti and daal. Food is light, tasty and soothing to the stomach. After dinner Srikant, Vidya and me discussed on the text Tatwabodha for an hour. Later we retired to our rooms. It's so cold that, I grabbed two blankets, pulled it over me and hit the bed.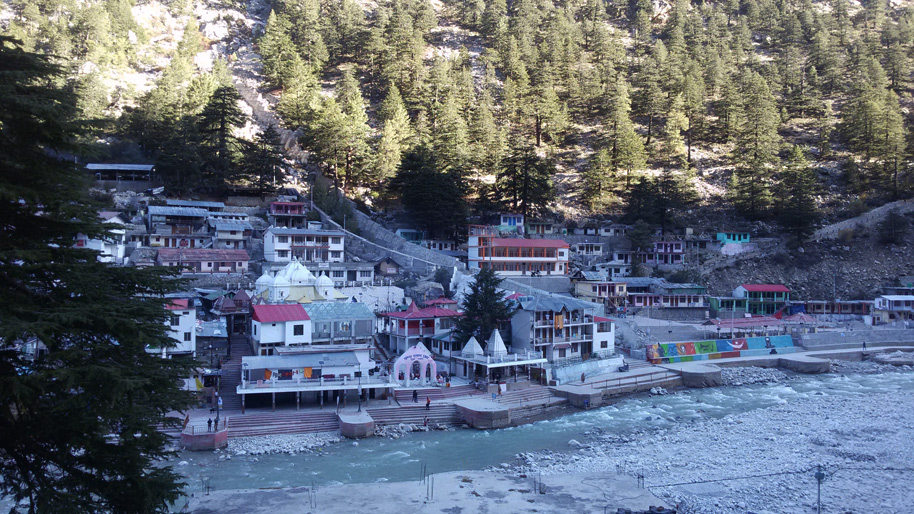 Gangothri
There is no exact schedule for the next day, so got up around 7am. After breakfast we walked towards Suryakund. Surrounded by snow capped mountains, nature is so beautiful here at Gangotri. In winter the whole place will be filled with snow.
By 11am we started towards our next destination Uttarkashi.
Uttarkashi: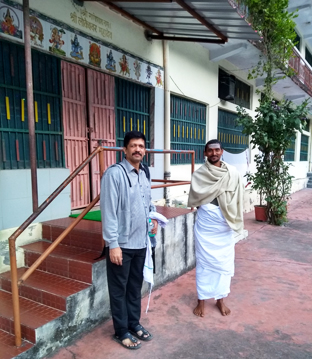 With Durga Ma

A district in Uttarakhand state under Garhwal division. Uttarkashi means the Kashi of North and is also known as Soumya Kashi situated 1158 m above sea level.
Srikanth has got a friend, Durga Ma Upadhyay who is staying in Uttarkashi next to the banks of river Bhagirathi. He was very happy to allow us to stay at his place that night.To reach his place we have to walk through a small and beautiful paddy field. The smell, the sound and the ambience at the paddy field suddenly reminded me my school days when i used walk through the paddy field nearby.
Durga Ma was awaiting for us with our lunch ready. He is a very simple, humble and loving person. He has now fully dedicated his life on learning scriptures. He showed us the collection of books they have in their small library, in among them some are rare. I was amazed to see him taking his evening bath in the freezing cold Bhagirathi river flowing just in front of the ashram.
Evening we visited the famous Kashi Vishwanath Temple and after an early dinner we retired to our rooms. We have to wake up early morning at 5 to drive to our new destination - Kedarnath. In that peaceful and tranquil atmosphere I quickly fell asleep. Morning around 3.50am, I woke up, it's pitch dark in the room, the only sound is from the river flowing nearby. It's so soothing to the ears. Behind this sound there is nothing but the immense silence. I am totally fresh and awake. An ideal place and time to explore the depths of the mind.

River Bhagirathi flowing infront of Durga Ma's ashram

By 6.20 am we had a cup of tea, said bye to Durga Ma and walked through the paddy fields to the place where our car has been parked.
On the way we stopped and had breakfast from a restaurant named Manjari. It seems new, clean and more over the scenery behind this restaurant is remarkable with a good view of beautiful green mountains. In the hotel, they have showcased a variety of their own branded products like green tea, turmeric, ginger, lemon grass, rose petals, honey etc.
We passed through Agastyamuni a small town, here river Mandakini is flowing just beside the road on our left. The Mandakini will meet river Alakananda at Rudra prayag. We were heading towards Guptkashi to take a helicopter to Kedarnath. There are many private companies offering Helicopter services. The rate is based on the distance from where they offer the service to Kedarnath.
We approached 'Aryan Aviation' at Guptkashi, they took from us Rs 7500 for return ticket per person. But there are other conditions also. Passenger will be charged extra if his/her body weight goes more than 80KG. The Passenger baggage should not be more than 2.5kg. These Helicopter's can accommodate only 6 passengers and a pilot. So, you have to wait till they get 6 passengers to fly. After 6pm there will be no service till next day morning.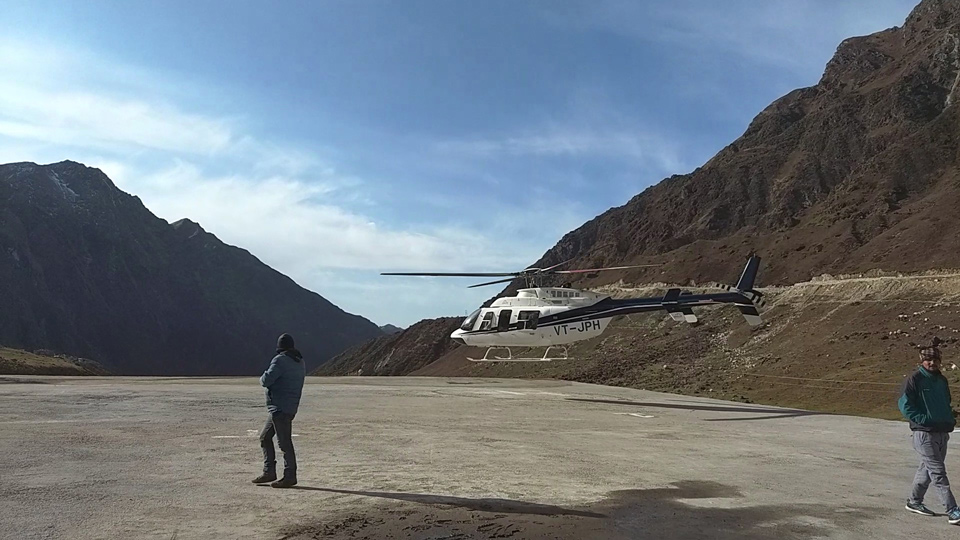 Helipad at kedarnath
It is hardly about 15 mts flight from Rudra prayag to Kedarnath. Ravi remained there in Rudraprayag, through mobile phone he introduced a person named 'Murari' at Kedarnath to guide us. As soon as we landed at Kedarnath, Murari came forward and guided us to our rooms situated very close to Kedarnath Temple. He then promised to meet us next day morning to take us into the temple and left.
Kedarnath:
3,583 m above sea level. Like Gangotri and Badrinath, Kedarnath temple also will remain open only for 6 months in a year due to extreme weather conditions. Even with the rough weather and tough terrain Kedarnath is a beautiful, peaceful, powerful and spiritually very uplifting place.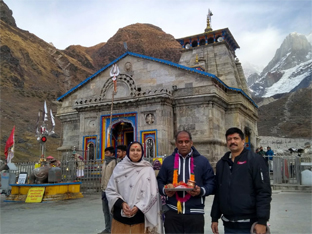 At Kedarnath

We had temple darshan that evening. There are a few sadhus smeared with ashes all over the body and wearing only dhoti in that extreme climate, but they seems more interested in money than spirituality. I even felt that the priests are more interested on what is there in our pocket, than concerned of their own spiritual growth. I think the authorities should appoint only those kind of people who like to dedicate themselves in their work and explore the self, than a person with a money mongering mind.
It's freezing cold after sunset, more piercing than at gangotri. After the darshan we came back to our rooms. Of Course we had our Tattva bodha discussions for 45 mts after dinner.
Next day, 17th October 2018, early morning we got up. As promised, Murari came to take us inside the temple. In Kedarnath, we are allowed to go inside the Sanctum sanctorum during the morning session to do our own pooja. There is a small rock, shaped somewhat like a miniature of mount kailash, to which people offered their pooja. Murari guided us to perform the pooja. We had a very nice darshan and spent around 20 to 30 mts there inside. Then we came out, took some photographs, walked back to our room, Took our bag and headed towards the helipad.
At Kedarnath Temple
This helipad is bigger and can accomodate two helicopters at a time. Because of the morning crowd, there is a continuous landing and takeoff of the helicopters . At Rudraprayag, we had our breakfast from a nearby restaurant named Himalayan Comforts resort. The restaurant was clean, the place was peaceful, and the buffet they offered was simple and also tasty.
After breakfast we travelled towards Ukhimath a small town in Rudraprayag district and visited Omkareshwar temple. It is at this place where they perform the worship of kedarnath temple for six months in a year. We spent some time there and drove towards Joshimath.
On the way we had a late lunch at Pipalkoti, Ravi suggested a restaurant named Indraloka. It was days since I had seen any south indian dishes, so I ordered Idli and dosa. Then we headed directly to Jyothirmath or also called Joshimath.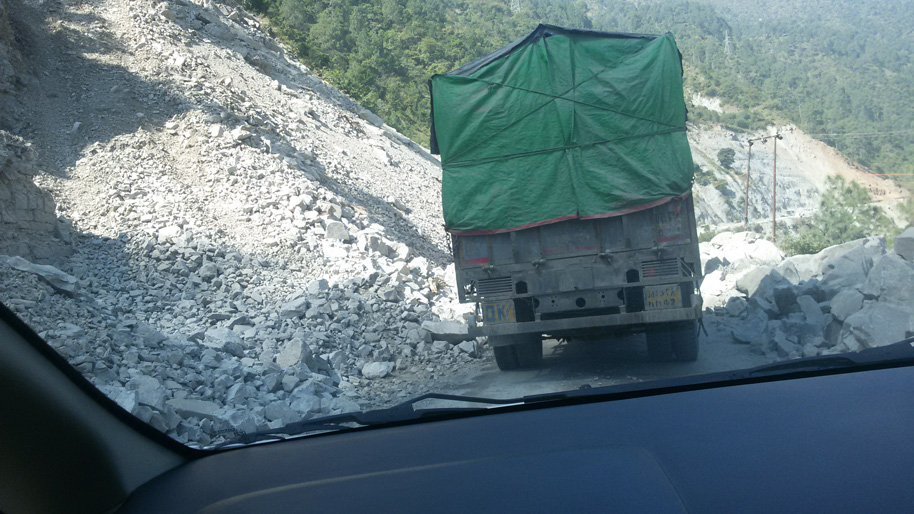 Land Slides
Joshimath.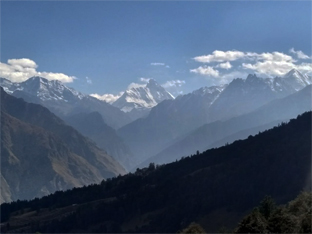 Nanda Devi Peak from Auli Rope-way.

Joshimath is a town in Chamoli district, situated at 1875 meters above sea level, in the inner Himalayan range of Garhwal. It has derived the name from the monastery established there by Adi Shankaracharaya.
By evening we reached Joshimath. We enquired in two or three hotels and finally decided to stay at 'Hotel Mount View Annexy' which had got good rooms for a better price, and above all it is located in the middle of the town itself.
We had our dinner from a nearby GMVN(Garhwal Mandal Vikas Nigam) restaurant, and came back to our rooms. We decided to relax next day, with no time schedule to wake up in the morning. After breakfast we went to Auli ropeway, the highest ropeway in India, which was hardly one KM from our hotel. They charged Rs.750 per person to and fro for the cable car to Auli. At Auli side the upper station is located at a height of 3016.3 meters.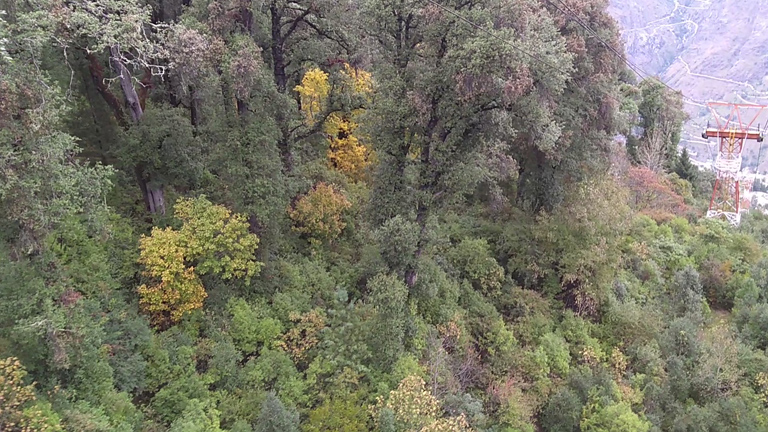 View from Auli ropeway
Auli is also a famous skiing and paragliding destination. There are 10 towers supporting the cable car which covers a distance of 3.96 KMs from Jothirmath to Auli.. It took around 20mts to reach from one end to the other. The cable car trip is a mind blowing experience. Below the cable car is the forest full of coniferous and oak trees, and on the sides panoramic view of ice capped mountains of Himalayas. Famous of them are the beautiful Nanda Devi, Trishul and Neelkant peaks.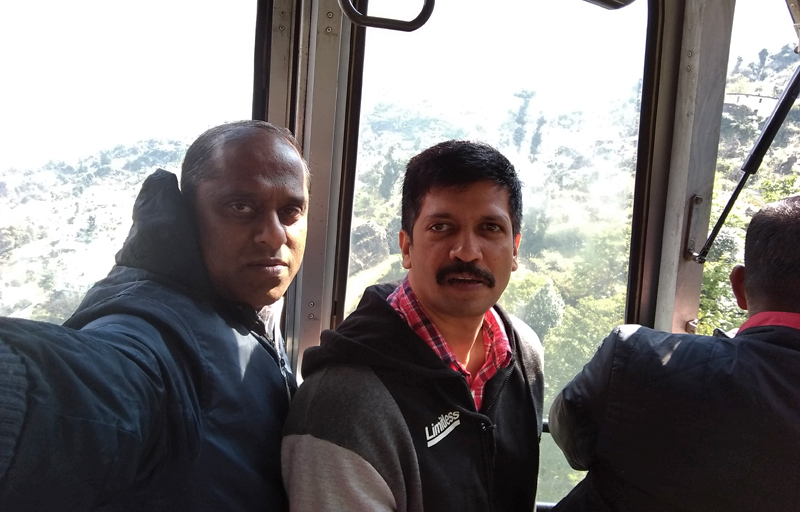 A Selfie - Auli Rope Car
After lunch we came back to the room and then around 4.30pm went to visit Narasimha Temple and Shankaracharya Math. Next day early morning, leaving the luggage in our room, we started our trip towards Badrinath. On the way we saw the remnants of landslides that happened during the rainy season, and the beautiful Alaknanda flowing down on our right. We stopped at Hanuman Chatti and took some pictures, this place felt familiar for us, as it is mentioned in Madhavanar's book.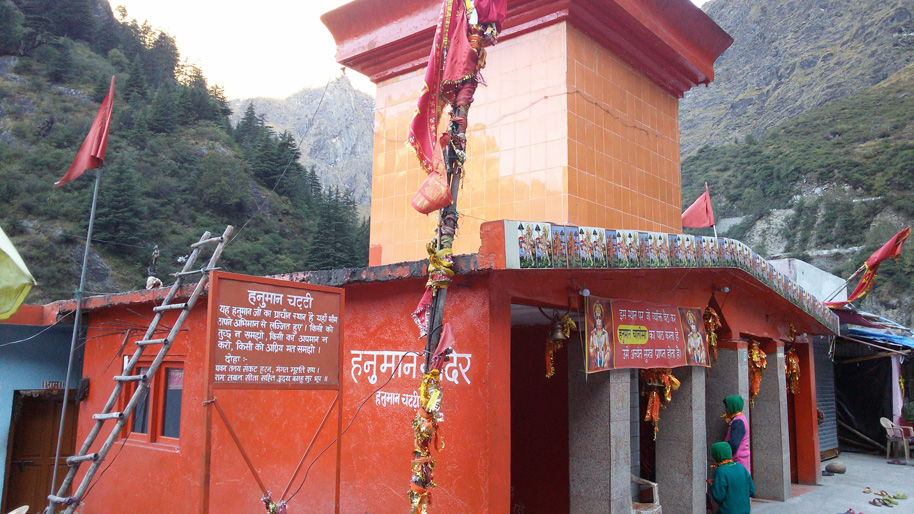 Hanuman chatti
Badrinath:
Badrinath is a Vishnu temple, located near the banks of the Alaknanda River. The place is surrounded by two mountain ranges of Nar and Narayan on either sides and Neelkanth peak located at the back of Narayan range. Like Kedar this temple also opens only for six months in a year. And rest of the months the pooja will be conducted from Jyothirmath.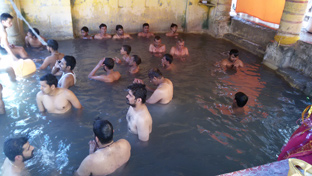 Taptha kund

We had nice darshan at the Badrinath temple. After the temple darshan,we went and met the main priest (Rawalji), who is from Payyanur, Kerala. We had some insightful discussion about the temple and their traditions, for around half and hour in our native language Malayalam. Another main attraction there is a small pond with warm water named Taptha Kund. In that extreme cold climate only the water in the pond is very warm. Srikant took a dip in it. After having a nice brunch from a nearby restaurant we drove back to Jyothirmath.
Initially we thought of traveling till Rudraprayag, stay there that night and continue the travel back to Rishikesh the very next day. But later we changed the plan, to avoid searching for a good stay at Rudraprayag.
We decided to stay in the same hotel that night too. Evening we once more visited Jyothir Math Temple and had our dinner from GMVN restaurant. There was a small maidan near the restaurant where a gharwali marriage celebration was happening. We went there and watched their traditional group dance for some time. The women were wearing beautiful traditional dress and ornaments. Ravi told us that they are from Chamoli, Garhwal.
Next day, 20th October 2018 early morning we started our return trip to Rishikesh. On the way we visited a few Prayags like Karnaprayag, Rudraprayag, Devprayag etc.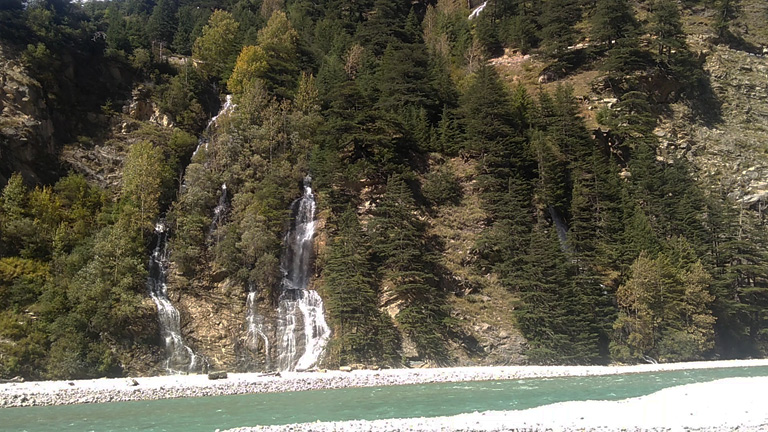 Prayag: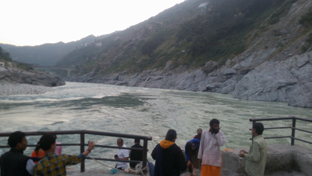 Devaprayag

Prayag means confluence or sangam. First we reached at Nanda-prayag, which is one of the panch prayag's of Alaknanda river. At Nandaprayag Alaknanda meets Nandakini River.

Next we stopped at Karnaprayag where Alaknanda meets River Pindar which starts from the icy Pindari glacier.

Then we visited Rudraprayag where Alaknanda meets Mandakini which originates from the Chorabari Glacier near Kedarnath.

Next stop was at Devprayag, here Alaknanda and Bhagirathi rivers meet and take the name Ganga.

By 8.15pm we reached Rishikesh and had our dinner from the Dayananda ashram. Next day, we didn't make any schedule, it was our relaxation day. Students from around the globe started reaching the ashram to attend a week long class.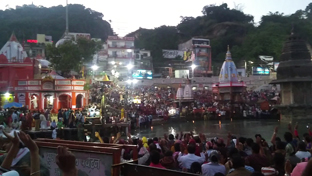 Ganga Arathi - Haridwar

Most of them were known to Srikant and Vidhya, they were meeting each other and renewing their memories.
On 22nd October afternoon, we headed to Haridwar to see the Ganga arathi, we also visited one mirror temple(temple with mirrors). After watching the arathi, we returned to Rishikesh, met Srikant's teacher who is to conduct the Brahma Sutra classes, and got permission for me to attend the morning session the next day.
Early morning on 23rd, I got ready and went to attend the class. It was a one hour introduction about the subject. There are students from most of the countries around the world. I was amazed to see some of them chanting the sanskrit slokas with good accent.
By afternoon, i completed my packing and after having lunch, took a cab and went to Dehradun airport to catch my flight to Kochi.