A Visit to Rameshwaram ( June 2011)
A train journey over the Pamban bridge was a long cherished desire, which finally got fulfilled on 20th June 2011, when I and my cousin Nithin( NithinKK.wordpress.com) boarded our train to Rameshwaram from Chennai.
Train Journey:
To view and experience the breath taking train journey over the Pamban bridge, we chose 'Rameshwaram Express' . From the available list of trains, this particular train seems the best choice for us. The main advantage is that it reaches Rameshwaram around 11.45am, by that time we will be wide awake and ready to enjoy the trip.
On the way we come across some famous railway stations like Chidambaram, Kumbakonam, Thanjavur, Chettinad, Karaikkudi ... When the train passes through these places which are familiar to our ears, we do feel certain belongingness towards that place.
Some Technical History of Pamban Bridge: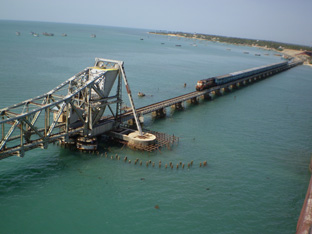 The Pamban bridge, built on Palk strait connects Rameswaram or Pamban island to India. It is India's first sea bridge, which was opened for traffic in 1914. The construction of this bridge was started during the year 1887 and completed around 1912. It is the second longest sea bridge in India (after Bandra-Worli Sea Link) & is about 2.3 km long. Initially, the bridge was for meter-gauge trains and later in 2007 Indian Railways upgraded the bridge to support broad-gauge trains on it.
It?s a double-leaf bascule bridge which can be raised to let ships pass under the bridge. This Bridge consist of 143 pillers and is located at the "world's second highly corrosive environment", next to Miami, US,. The location is also a cyclone-prone high wind velocity zone.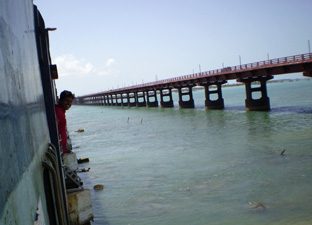 There is also a new road bridge constructed in 1988 at a higher level than the old railway bridge. This engineering marvel took 14 years to complete. It is designed like a bow over the sea to allow ships to pass beneath it. The bridge is 2.34 km. long, with a clearance of 24.4 mts. and it is supported by 79 pillars, 64 of which are built in the sea.
The whole view of this bridge and the surrounding area is really a big feast for our eyes. The most enchanting sea breeze, blue sky, green stripe of Rameshwaram Island makes the spot a nature heaven.
Rameshwaram:
Rameshwaram is an island situated on the tip of the Indian peninsula, spread over an area of 61.8 square kilometers. The city is also an important south India pilgrimage center of the Indians. No pilgrimage is over without taking a trip to this holy island of Rameshwaram. Whosoever visits Varanasi, is supposed to make a trip to Rameshwaram to consider his pilgrimage completed. Though India was politically divided into many kingdoms or states for several centuries, the term Bharat as one, can be seen in its cultural activities which exists more than 5 thousand years. People of South India go to Kasi and the people from North to Rameshwaram, during those time there were no hotels or restaurants to stay or dine. They travel by foot and stay at houses. People considered ?the guests as god? (athithi devo bhava) and guests were welcomed at anytime. A continuous cultural flow within the county can be seen in the pilgrimages.
Rameshwaram is also at a distance of just 24 kms from Sri Lanka. It is also the seaport from where the ferry to Sri Lanka port Thalaimannar is operated throughout the year barring November and December when the sea turns rough.
The ex-President of India, Dr. A.P.J. Abdul Kalam, hails from this island. It is also the land of Sethupathi who sent Swami Vivekananda to the Parliament of Religions held at Chicago.
Rameswaram Railway Station: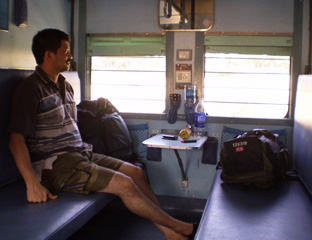 We reached Rameshwaram railway station (RMM) around 11 am. It is about 3 kms from city centre. To have a feel of that place, we both walked a few meters from the railway station. Charged our pre-paid mobile phones. Had a chat with that shop keeper. Then we took an auto rickshaw from railway station and got down near Rameshwaram temple, from there we called Mr. Muthu, our guide, personally introduced by Raj (House of Dosas, Canada & UAE ). In no time Muthu came infront of us. He stays nearby and travels in his bike. He was very punctual. Muthu can be reached at his mobile 00-91-9787607805
I explained Muthu our travel scheduled in which we planned to spend only 24 hours in the island and want to head towards Madurai. It seems 24hrs is more than enough to see around that island. He suggested that the same day, in 3-4hrs hours we will be able to cover all the places in that island in an auto rickshaw except Dhanushkodi. We decided to keep Dhanushkodi trip for the next day early morning.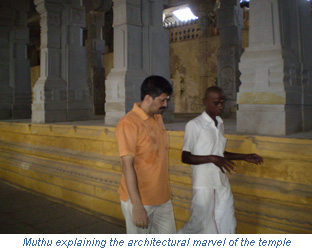 Muthu helped us to take a room in a lodge nearby Rameshwaram temple. It comes around Rs. 1100, a small double bed AC room with a 23 inch LCD TV. He arranged our auto rickshaw driver Mr. Manikandan, who agreed to show us all the main places in his auto rickshaw. After having a quick shower, we got ready in 30 mts. When we reached at reception, Manikandan was there waiting for us. He is a friendly and soft-spoken guy. He usually tries to explain us in advance, the importance of the each place we visits, which helped us to get a small picture on what we are going to see. Manikandan's contact no. is 00-91-9788536366.
3 hour Auto Rickshaw Drive Around Rameshwaram Island: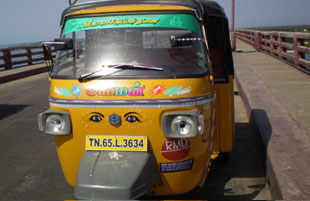 We started our trip around 12.30 noon. Manikandan took first to Ramarpadam (means imprint of Rama's feet). It is in the north-west of the island and the most elevated point of the island. It is a two-storied structure with a ruined fort. Hanuman is said to have leapt from this point across the sea to reach Lanka.The feet of Rama is in the centre of the lower storey. It is also known as Ekantha Rameswaram and contains handsome idols of Rama, Sita and Lakshmana here, Rama is seen raising one of his arms. From this elevated place, one can have an excellent view of the whole island. The highest point is at a distance of 5 kms from Rameshwaram town. Being the highest point of Rameshwaram, a magnificent view of the blue ocean waters, the carpet of lush green lagoons and occasional sand dunes are truly fantastic.
Kothanda Ramar Temple is about 12 kms from the Ramanatha Swamy Temple, where it is said that the Vibhishana surrendered to Lord Rama. Large sized murals depicting the entire scene of Vibhishana coming to meet Lord Rama, surrendering and offering his services, are on the four walls of the main hall.
The Panchamuka Hanuman Temple is located only 2 kms from the Ramaswamy Temple. Few floating stones ( a kind of stone said to have used to build the bridge named 'Rama Sethu' connecting Rameswaram with Lanka), is also kept in this temple.
Villondi tirtham is the place where Rama made thirtham to quench the thirst of Sita by dipping bow into the sea water. A single spot where drinking water is available in the midst of salty sea makes the great attraction for the people to visit the place.
The Swamy Vivekanda Memorial Hall also called Vivekanandar Manimandapam. The Manimandapam was built in memory of Swami Vivekananda?s return from the Chicago Parliament of World Religions. After he returned, it is said that he first set foot on Indian soil, which is where the Memorial is built. The Raja (king) of Ramanathapuram, who funded his visit to Chicago, takes a place in this memorial hall.
Ramanatha Swamy Temple: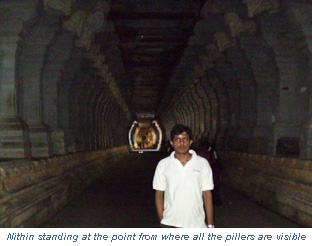 The Rameshwaram, Ramanatha Swamy Temple corridor, the masterpiece of Indian architecture boasts of the largest temple corridor in India. The construction of Ramanathaswamy Temple which was started in the 12th century was contributed to by many rulers. The 1220 mts of magnificent corridors on both sides of which are mammoth granite pillars (around 1200 or them) with a height of 12 ft. all nicely carved. The flamboyant columns embellish and render fame to the temple
The holy city of Rameshwaram is also usually referred to as the 'Benares of the South. The presiding god in one of the Temples of Rameshwaram is the Linga of Sri Ranganatha, which is one of the twelve Jyotiralingas of India.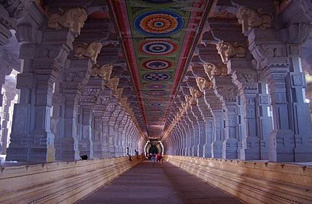 Another famous feature of Ramanathaswamy Temple are the 22 wells spread throughout the premises. It is said that the taste and temperature of water in each well is distinctly different from one another and have curative features. There is a popular belief that one needs to take bath in these 22 wells (theertha kundams) with in the temple premises before having darshan.
The Jeeva Samadhi of Patanjali Maharishi, the author of Yoga Sutra, is said to be in the middle of this temple.
Dhanushkodi:
Next day early morning our jeep and its driver was ready in front of our stay. We straightly headed towards Dhanushkodi, its a kind of beach drive where both the sides are seas. That drive was refreshing, little adventurous and slightly different.
Dhanushkodi (18 km) - the southern tip of the island, Dhanushkodi was completely washed away by the 1964 cyclone. This is a strip of land about one km wide and 18 km long on the eastern end of Rameswaram island. On one side are the waters of the Indian Ocean and on the other the waters of the Bay of Bengal. The two seas otherwise known as Ratnakaran and Mahodadhi with their confluence is shaped like a bow while the strip of land resembles an arrow poised for release. Devout Hindus consider the Adi Sethu or the arrowhead, a sacred place to perform religious rites. It is also a place worth visiting for its scenic beauty.
By noon, we took a bus from Rameshwaram bus stand and headed towards Madurai, through the new road bridge. For that four hours journey, they charged only Rs.56 per ticket. We got a front seat on the bus, which allowed us to have a 180 degree view till Madurai, one of the most ancient cities of India, more than 2,500 years old . Madurai is considered to have been designed and planned by King Kulasekara Pandyan, in the 6th century BC. The name Madurai is derived from the name "Mathuram" which means "sweet" . A journey to sweet... or otherwise called a journey to source.
Click the below image to browse through those places using google map.